At the end of June, we had the pleasure of talking to the gallery's youngest artist, Kate Tortland, while she spent a few days here on the Vineyard to paint. This day she was painting the Edgartown Lighthouse from the front lawn at the Harbor View Hotel. She took some time to let us know about the start to her career, her supporters, inspiration and current work.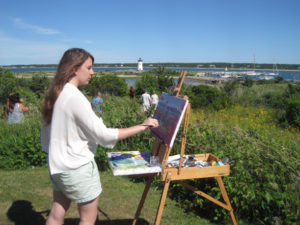 When did you start painting?
"I started painting technically when I was about fourteen years old with a woman named Catherine Elliott who was, and still is, a local impressionist landscape painter in Connecticut. She inspired me in many ways, and it wasn't until then that I had worked with oils, and I found myself painting constantly after that point. I worked with her for many years, and we even ended up going to Ireland together and painting. At first, I wanted to be exactly like her, but eventually after many years of exploring my own methods, I came to understand my own approaches and developed a unique style that is influenced by her, but could never be mistaken for her work. Even though I began painting with her as her student, now we're colleagues showing in equal level galleries, plein air painting together as friends, and I still am inspired by her every day.
[Read more…] about An Afternoon in Edgartown with Kate Tortland