Our 38th season is just beginning here on the island of Martha's Vineyard! With the extremely long winter finally behind us, it has been wonderful to see everyone walking around town and stopping by the gallery to say hello. It's always nice to catch up with friends and clients and hear about what has been going on in their lives over the last few months.
The gallery is displaying two new artists this season. Kate Tortland just graduated from Gordon College where she majored in art education, as well as, studio art. She has a lovely sense of color and approach to her impressionistic paintings. Kate says "my goal in creating works of art is to call attention to all the wondrous beauty that surrounds us – beauty that is so often ignored or forgotten." She loves to travel and in addition to painting, she enjoys writing and illustrating books. We are very excited to have her work in the gallery.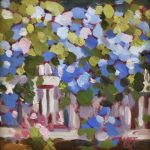 Herb Edwards is also an oil painter whose subject is predominantly coastal landscapes, though over the years, he has spent time in the southwest painting the high desert landscapes. His color palette is very peaceful and relaxing, much like Herb himself. His wife is the painter Lillia Frantin, who has been showing with the gallery for the last two seasons. We think they complement each other quite nicely.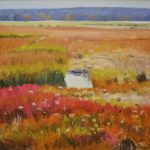 We are also featuring a large collection of works by the Pissarro family for the season. The collection includes a drawing by Camille Pissarro and several oil paintings by his sons and grandson, H. Claude. We will feature more about the family in our next blog.
Island artist Marjorie Mason will be having her annual landscape show in early August. She always brings together a beautiful collection of paintings of this island that truly inspires her to paint. It's this love of the island and how she captures the landscape in her paintings that makes her one of the gallery's most sought after artists.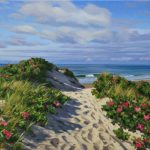 With the island coming back to life, we hope that you will stop by the gallery to say hello as well as to view and enjoy this season's collection. We look forward to sharing these works with you.