Marjorie Mason's Vineyard Landscapes opened on Thursday, August 6, 2015, at The Christina Gallery in historic downtown Edgartown. Mason has developed an impressive following of patrons since her graduation from the prestigious Rhode Island School of Art and Design in 1981. "Just before I graduated from art school I happened upon a printmaking technique that guided me out of my major in Illustration and into the world of oil painting the landscape." Mason would spend the next twenty years perfecting that technique of monotype oil painting where the finish work takes on the softness of a pastel. During this time she also evolved as a plein air painter working consistently with other Island artists who shared the same passion to explore Martha's Vineyard through direct or alla prima painting.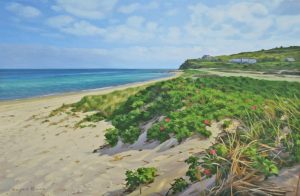 Marjorie Mason's body of work is composed mainly of beach and landscapes from around the Vineyard. Her art appeals to many people because she paints across the island. In her painting titled Menemsha Morning Rose Dune you are invited to walk down the tranquil stretch of beach while breathing the fresh morning smell of the rosa rugosa. Another favorite island vista is the Allen Farm in Chilmark. People traveling that part of the island are treated to one of the most cherished island views where the sheep roam freely and the surf of the Atlantic Ocean is visible off in the distance.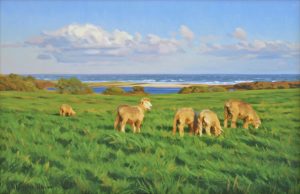 "I give the credit for my exploration of painting to Martha's Vineyard Island itself. This is a place of astonishing physical variety and beauty as well as a thriving creative community. I feel very inspired to be a part of it."
To view more of her work please click here.