When I view one of Duane Alt's paintings, I find myself wistfully thinking of taking a trip to France. Duane's use of jewel toned hues in his paintings remind me of the sparkling Mediterranean Sea, the enchanting city gardens and the sun-drenched fields of flowers and lavender of the countryside. During his lifetime, Duane has traveled extensively through the region, including both the French and Italian Rivieras. It's Duane's fondness for all things French that one might think that indeed he is a native, but that is not the case.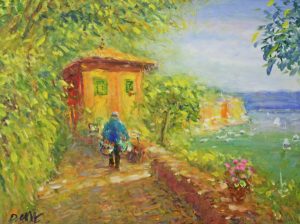 Duane Alt was born in a small Nebraska town and grew up in Southern California, where he began his art studies at the Chouinard Art Institute in Los Angeles. In the 1960s, he studied art at the Sorbonne and the Ecole des Beaux Arts in Paris. It was there that the legacy of the Impressionists captured his heart and influenced his personal style with his passionate brush strokes.
It's that masterful brush work with a burst of color that enables Duane to express a painterly prominence to his paintings. The influence of the Impressionist masters including Claude Monet, Camille Pissarro, Pierre Bonnard and Vincent Van Gogh is apparent, but Duane has conveyed a contemporary interpretation to his paintings through his mind's eye.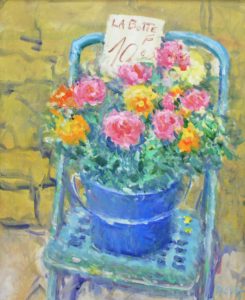 When viewing his paintings, you can simply imagine or even in some instances, remember sitting in that café for a late afternoon aperitif or that restaurant for a grand dinner. Or you have walked that same hill on your way back to the hotel after a day of sightseeing in the small villages along the coast.
His paintings allow for reminiscing of past trips taken abroad and for those some may want to embark on in the future. During his representation in our gallery, which began in 1997, I certainly know that there have been many paintings that have made me feel this way.
Duane will turn 80 this year and he still paints for about six hours every day in his studio. We will be celebrating Duane Alt in the gallery throughout the 2015 season.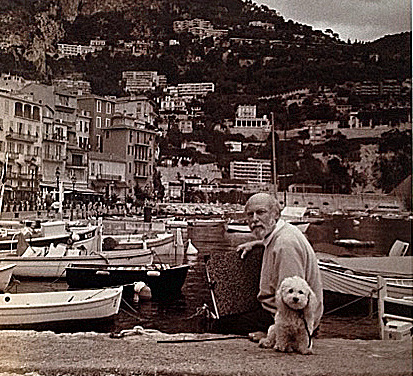 To view more paintings by Duane Alt please click here.