Every time I speak about the marine paintings by William R. Davis, I point out that he is a self-taught artist. As I am saying the words and looking at his paintings, I say to myself 'that cannot be', but it is true. Davis was born in 1952 in Somerville, Massachusetts, and grew up near the shore in Hyannis where he enjoyed a love of sailing that still is with him today. He has spent much time studying the works of the 19th century masters and has amassed an impressive library that he references to achieve historical integrity in his paintings.
Over the nearly twenty years that we have represented his work, I have most enjoyed Davis' attention to detail, regardless of the size of the painting. To me there are little paintings within the larger one. Clients and those new to his work have also marveled at his detail.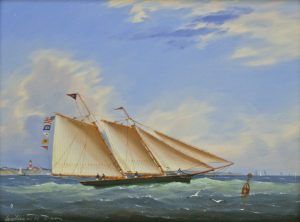 Davis uses a gentle hand and a soft sable brush to create his carefully rendered oil paintings. His works are defined by their warm color palette, impeccably detailed subject matter, smooth surface, and atmospheric lighting. Renowned for his ability to accurately portray the billowing sheets and taught lines of a schooner, he is also unmatched in his ability to emulate the quality of light in a dewy sunrise or a pink-tinged sunset. His perceptive appreciation of light allows him to capture the power of nature in every painting. Collectors of Davis' art praise the elegant way his brushstrokes melt into the surface of the canvas and the accuracy with which he captures the turn-of-the-century seascapes.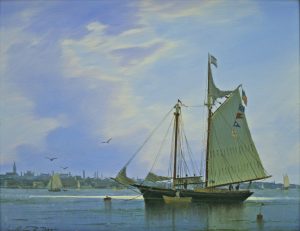 William R. Davis has made his name as a painter of historic sea and landscapes and we have certainly been very proud to have his paintings in our gallery. 2016 will commemorate our 20th anniversary in representing his work and we will celebrate this milestone with an exhibition in early July 2016.
To read a current article about William R. Davis in Fine Art Connoisseur magazine please click on the magazine's title.
To view the William R. Davis paintings on currently on display with the gallery please click here.