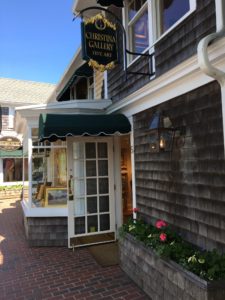 Celebrating its 45th season, The Christina Gallery is open year-round and located at 5 Winter Street in the heart of the historic village of Edgartown on the island of Martha's Vineyard. This beautiful and spacious gallery encompassing two floors has an emphasis on traditional art, including Impressionism and Expressionism by contemporary artists, marine and landscape paintings by living masters and modern Sailors' Valentines by award-winning artist Sandi Blanda. One of the gallery's best-kept secrets is its fine collection of antique maps from the mid-1500s and nautical charts from the mid-1800s. These authentic antique works form the centerpiece of a truly distinctive display.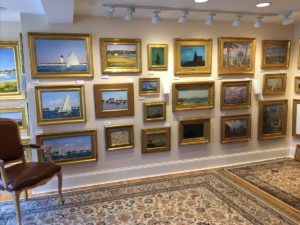 Over the last twenty three years the gallery has been developing and curating its Modern Masters collection, which includes affordable works by such well-known artists as Mary Cassatt, four generations of the Camille Pissarro family, Pierre-Auguste Renoir, James Tissot and Maurice Utrillo.
The Christina Gallery prides itself on having a varied price range to allow for all who visit the gallery to feel welcome and to return to the gallery often. With the works of more than 25 regionally and nationally recognized artists on display, the gallery promises and provides an ever evolving collection.
Stay in touch!
Please subscribe to our email newsletter.
Physical Address: 5 Winter Street Edgartown MA 02539
Mailing Address: Post Office Box 40 Edgartown MA 02539
Email: art@christina.com
Phone: 508-627-8794 or 800-648-1815