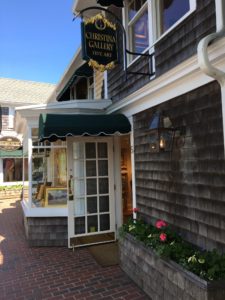 Celebrating 46 years in business, The Christina Gallery is in the historic village of Edgartown on the island of Martha's Vineyard. This warm and inviting gallery encompassing two floors is focused on traditional art, including Impressionism and Realism, by contemporary artists. The collection of paintings consists of marine and landscapes, street views, still life, and figurative works of art.
The gallery's Modern Masters collection includes affordable works by Mary Cassatt, Berthe Morisot, the Camille Pissarro family, and Maurice Utrillo, among others. There is a delightful collection of French fashion prints from the Gazette du Bon Ton, the legendary Paris fashion magazine.
One of the gallery's best-kept secrets is its fine collection of mid-1500s antique maps and nautical charts from the mid-1800s. These authentic antique works form the centerpiece of a truly distinctive display.
The Christina Gallery prides itself on having a varied price range to allow all who visit the gallery to feel welcome and return to the gallery often. With the works of more than twenty-five regionally and nationally recognized artists on display, the gallery promises and provides an ever-evolving collection.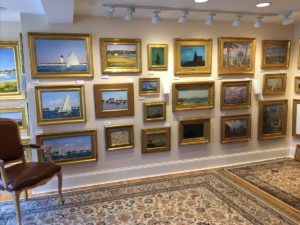 Stay in touch!
Please subscribe to our email newsletter.
Physical Address: 5 Winter Street Edgartown MA 02539
Mailing Address: Post Office Box 40 Edgartown MA 02539
Email: art@christina.com
Phone: 508-627-8794