Russell Gordon's realist still-life paintings are, at first glance, reminiscent of 19thcentury still lifes. Take a moment to really absorb the scene before you; however, and Gordon's charming sense of humor and lighthearted attitude burst forth off the canvas. Gordon designs traditional compositions of objects such as fruit, mussels, and books then infuses them with his own unique brand of wit. Examine his paintings closely and you are sure to notice nuances such as a ladybug perched atop an otherwise unblemished flower or a water droplet sliding down a dewy mussel shell.
Gordon's use of chiaroscuro heightens the drama of his compositions. He uses a very traditional, richly colored palette that lends itself to the theatricality of the seemingly simple arrangements that he portrays. Vividly colored lemons, or other objects, pop against a background of brown and burgundy. A single light source is frequently used to illuminate the foreground and provide gleaming highlights.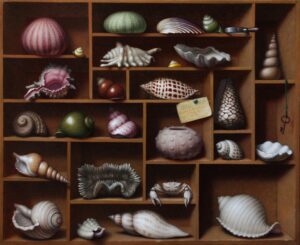 "Shell Collection" is a 22" x 27" oil painting of a curiosity cabinet filled with seashells. True to his nature, Gordon has included humorous references and objects such as the crab in the center of one of the bottom 'cubes.' The crab's claws hang forward, moving into the viewers' realm of reality. His eyes glisten as they stare directly ahead, watching us look at him. Gordon signs the work with a playful business card pinned to the center of the display case. The card reads, "Shell Shop / Seashells of Unique Beauty / 19 Ocean Drive / ask for Russell W. Gordon." The detail that Gordon captures, just like in all of his paintings, is incredible. The viewer can practically count the threads that compose the green string tying the key to a nail.
Come visit us at The Christina Gallery in Edgartown, MA to spot more of the tongue-in-cheek details in Gordon's original oil paintings, or view them here on our website.