Lillia Frantin's "Island Colors" exhibition opened last Saturday evening with an artist reception hosted by The Christina Gallery. Frantin has been exhibiting with the gallery for four years and this is her second solo exhibition. The collection has been very well received by her admirers, as well as first time visitors to the gallery.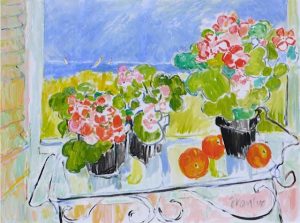 When you walk into the room where the "Island Colors" exhibition is on display, you immediately smile because there is so much happiness in each of Lillia's paintings. Her use of color is bright and upbeat, much like she is as a person.
In one painting Lillia interprets the famed Chappy Beach Club cabanas – the brilliant red, white and blue beach houses that sit on the outer harbor in Edgartown.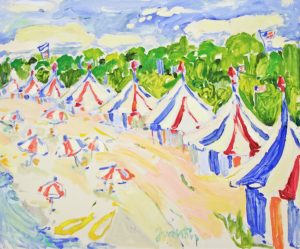 When asked what her inspiration for this exhibition was, Lillia said "I began working on this series of paintings over the long winter months and could think of nothing more than the beautiful memories of Martha's Vineyard in the summer light. As snow kept falling and falling, paintings began to fill my studio and soon the warmth of flowers and fruits, cloths and views of clear blue skies, water and sailing boats took hold. As always, the unexpected happened; spring was trying a comeback, Mother Nature smiled and it seemed only natural to call the collection Island Colors. I hope you enjoy the work as much as I had pleasure in creating it."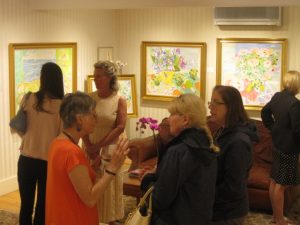 Lillia Frantin received her master's degree from Pratt Institute, New York in 1968. She was a professor of Painting and Modern Art History for over twenty years. Her credits include one-person museum and gallery exhibitions in Provence, France; London; Barcelona; Boston, Cape Cod, Nantucket and Martha's Vineyard; Scottsdale; Alexandria, Virginia; Los Angeles; Palm Desert, California; Santa Fe; New York City and Palm Beach.
"Island Colors" is on display until July 10, 2015. If you have not already seen the exhibition, please stop by our gallery. You can also check out our Facebook page to see more about the "Island Colors" exhibition. We would love to know what you think of this colorful collection!