We are very proud to announce that Aleta Steward was recently accepted into the prestigious Society of Animal Artists art show in Jackson Wyoming's Trailside Galleries. The Society of Animal Artists was founded in the 1950's and since then has been presenting the highest quality animal art in all medias throughout the world. Aleta's painting "Affinity" was one of the 80 chosen, out of hundreds of entries. We are proud of her achievement and the overall quality of the work in which she submitted.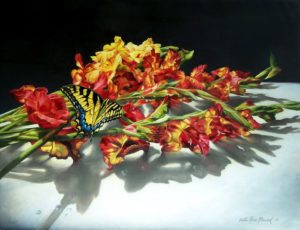 Aleta joined our gallery in the spring of 2006. Her work is lively, creative and bursting with intricate detail, going a step further than most wildlife painters. Aleta's fascination with science and animals has translated into a successful career in natural realism.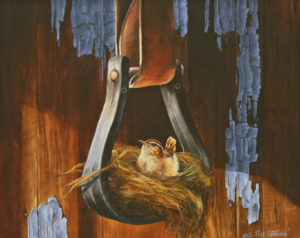 "Perfect Fit" is wonderfully creative and comfortable. It conveys a picturesque and nostalgic feeling that guides the viewer's imagination to an equestrian stable. The coloration is deep and rich. The contrast and balance of light and shadow in the painting is visually very pleasing.
Both "Affinity" and "A Perfect Fit" are great examples of Aleta's beautiful combination of whimsy and precision.
Congratulations to Aleta!
To view more of her work, click here: