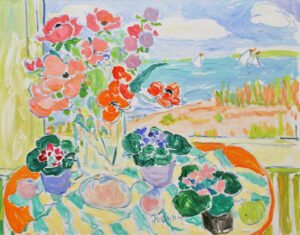 When I look at a painting by Lillia Frantin, I immediately smile and think of summer. A table set with a brightly patterned cloth, fresh cut flowers, and a bowl of juicy fruit in front of an open window says summer to me. It's as if you can feel the warm ocean breeze softly come through the window as you watch the boats sail on the horizon. I want to spend a carefree afternoon in front of that window.
I first met Lillia in the late 1990s and was instantly attracted to her imaginative paintings. We reconnected, and in 2012, she formally joined the gallery. The last ten years have been year-round bursts of happiness. Lillia has kept herself youthful through her painting. How could she not be with her color palette?
Lillia's playful use of vivid jewel-toned paints, along with her expressive brushwork, are characteristics that appeal to her followers as well. Her approach is naturally effervescent and in keeping with the Modernists, whom she studied while earning her master's degree from Pratt Institute. These artists included Cezanne, Van Gogh, Bonnard, and Matisse. Of course, the latter, Matisse, famously embraced the open window theme and painted them extensively during his career, particularly while visiting the Mediterranean later in his life.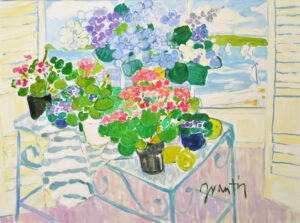 This open window with a breezy view of the ocean filled with sailboats has been a favorite theme in Lillia's work. In the painting, "Summer Still Life with Sailboats," her spontaneous brushwork dances across the canvas as her paint pulls together the bouquets of hydrangea, geraniums, and primrose. You can see the ocean and sailboats through a window flanked by lemon chiffon shutters.
Lillia says: "in many of my paintings, there is a double theme of still-life with bountiful fruits and flowers, placed at an open window filled with sky, sea, and billowing sailing boats. This theme presents two kinds of beauty; the intimate interiors we create, live in, and love, and looking out to the endless natural, everchanging world beyond. Inside and outside, Matisse often used this open window theme to show man and nature as one, expressing duality and unity. In my art, I've come to love a theme that allows color, emotion, freedom, and movement to become a harmonious experience of joy and pleasure, for me and hopefully for the viewer."
I believe Lillia has done just that!
Please click to view more paintings by Lillia Frantin.