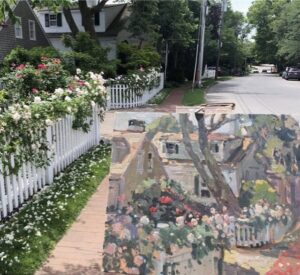 Edgartown's charming Hob Knob recently invited John C. Traynor to stay with them as part of their Artists in Residences. During his stay, John painted their lovely courtyard, which now hangs in the boutique hotel. He spent the rest of his trip painting en plein air street views in and around Edgartown.
About his stay, John says, "I enjoyed staying at the Hob Knob. The staff was friendly and helpful. It was nice being a short walk from the center of town to paint. I didn't have to worry about parking and in walking distance of the many wonderful restaurants."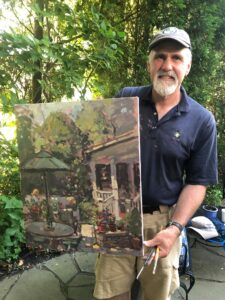 Traynor grew up in New Jersey and now resides in southern New Hampshire with his wife, Liz. His style is described as "American Impressionist," but his techniques are very distinctive. His light and atmospheric effect are reminiscent of the old master painters such as the American tonality painters and the French Impressionist artists. There is a richness and fullness to his work that is 'old world' yet contemporary with his unique style.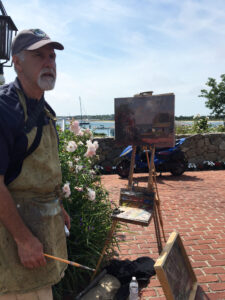 "Painting in Edgartown is inspirational for me, especially in late June when the roses are in bloom. The architecture of the houses and buildings complement the fishing and sailboats in the harbor. There are always subjects to add in a painting and help tell a story."
Traynor has won numerous awards, including the Frank DuMond award from the Hudson Valley Art Association and the Medal of Honor from the Salmagundi Club, of which he is an honorary member. In addition, John is also an inductee into the Delbarton School Hall of Honors and attained the level of Copley Master from the Copley Society of Boston.
To view more paintings by John C. Traynor, please click here.
To learn more about the Hob Knob, please click here.