Last week we had the opportunity to observe long time gallery artist, Jan Pawlowski, painting en plein-air or "in the open air" on Chappaquiddick. Pawlowski, who joined our gallery in 1996, was capturing one of his favorite views, the harbor activity near the Edgartown Yacht Club.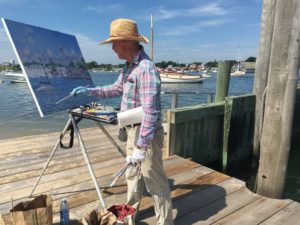 In addition to seascapes, Pawlowski's repertoire includes landscapes, flowers and city streets. He works en plein-air to fully understand and truly convey the mood of his subject matter. "Only nature can bring truth to the canvas," says Pawlowski, "one learns technique in school, but one learns 'truth' from nature." His joyous paintings are complimented by his self-taught impressionistic style. Although he attended the Academy of Fine Arts in Warsaw, he has strayed away from the rigid traditional style to embrace and learn from nature. For Pawlowski, Impressionism allows him to best voice his emotions and feelings; this emotion is controlled through his cheerful palette and manipulation of brush strokes.
Pawlowski's brush strokes follow the rhythm of the element that he is painting, moving very quickly to capture the essence of the lighting before it has the chance to change. This technique, particularly Jan's hand floating to the quick pace of the ripples in the harbor, can be seen on both our Instagram and Facebook pages.
Pawlowski's attention to detail persists in the smaller aspects of his paintings, such as in the anchored sailboat and the Edgartown Yacht Club, pictured below. His use of color to highlight the reflection of the boat on the water creates depth. He pays close attention to the reflection of color being bounced from object to object. His technique of applying colors side-by-side with little mixing builds contrast.

Pawlowski uses a very limited palette of colors, keeping them pure or creating a tint by adding white. This palette adapts based on the environment that Jan is attempting to convey either with colors that generate a nostalgic feel or colors that are highly prevalent to the area. For example, on Martha's Vineyard Pawlowski's work heavily consists of blues, greens and greys.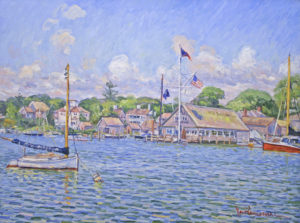 Jan has been celebrated in numerous one-man shows throughout United States and Europe. Jan's impressive resume also includes the Authorization and Certification by the ministry of Arts and Culture in Warsaw, which is the ultimate achievement for Polish artists.
To view more of his paintings, please click here.