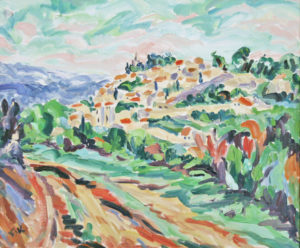 Fi Katzler was born on Malta, an island in the Mediterranean Sea and grew up in the county of Hampshire on the southern coast of England. In 2008 she moved to Aix-en-Provence with her family and has never tired of the stunning Provence backdrop nor the light that has been inspirational to many artists, including Cezanne and Van Gogh.
It's here that she began her studies, initially at the Art School in Gardanne and then with professional artist Jill Steenhuis, an American who has lived and painted in Provence for over forty years. Later, Fi studied painting, drawing and sculpting full time at The Marchutz School of Fine Arts in Aix-en-Provence. Of this time, Fi says "The teaching at The Marchutz was a revelation – they say that they do not teach you to paint, but to see." This learning experience enabled her to primarily become a plein air artist.
Fi has a very spirited brush stroke which she combines with her love of vibrant oil paints. When she is on location she focuses on what she is seeing as oppose to what is exactly right in front of her. This spontaneity combined with her passion to create and the joy of painting in the Provence landscape, adds energy to her paintings. She loves to be immersed in nature; to feel the heat of the sun on her shoulders, hear the chirping of the cicadas and smell the wild thyme and rosemary. Fi then adapts all these sensations and lets them flow out and onto the canvas to capture the unique moment.
Fi joined The Christina Gallery in the spring of 2016. Take a look at Fi's entire collection of paintings.