When you hear the name William R. Davis, his historically accurate marine paintings come to mind. And rightfully so, he is one of the leading contemporary marine painters currently working in this country. His success is attributed to his love of art history, understanding his subject through extensive research, while capturing the light and the teeniest of subtle details.
However, since the late 1990s, Davis has also had an interest in painting plein air landscapes. His friendship with fellow artists, Joe McGurl and Don Demers, both well-known landscape painters brought on this interest. The pair would travel around New England to paint outdoors, and Davis, one for always wanting to challenge himself, decided to give painting outdoors a try. Not only did he enjoy being outside and away from the studio, but he also was very good at capturing in the moment the essence of the landscape.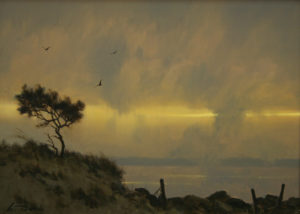 As I mentioned, Davis likes to challenge himself, and, this past year has been about nocturnal paintings. He has always enjoyed capturing a sensational sunrise or sunset but never really explored evening views. Davis says, "nocturnes make up a very small percentage of painted artwork. Lots of folks have no fear of taking nighttime photos, but few will try to paint one."
The challenge for Davis was painting a nocturne scene that would be engaging to the viewer. "Painting night or evening views can be a challenge for artists. Mixing the color for the sky and brushing the first strokes on a white panel or canvas creates quite a stark contrast. The sky color may already look too dark but, it's often too light to make a convincing nocturne. Many artists are shy about painting so dark. It does take getting used too. But I found something that works much better for me. Instead of painting on a light-colored panel as most artists do, I start my painting on a solid black panel. I am working in a reverse dark to a light method and, this forces me to start way darker than I usually would. Having this deeper background allows a greater amount of contrast when I want to use a strong red or yellow as a source of bright light. Rich colors such as deep red and yellow are dark on a white surface. But against a deep indigo blue sky, they are backlit and jump right out visually."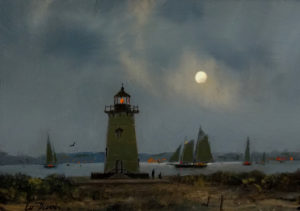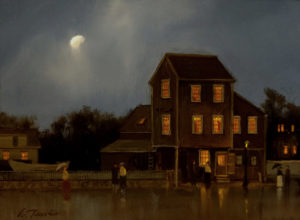 In Davis' latest work, an "Evening by Edgartown Light," the full moon highlights the evening sky while the schooner and other vessels in the harbor sparkle. Chappaquiddick is in the background with subtle lights on at the waterfront homes. There is an inviting luminosity from within the building in "Passing Rain on Gallery Night." The radiance draws the patrons to the opening and out of the inclement weather.
Davis, who has been with The Christina Gallery since 1996, is for the most part completely self-taught. He has spent much of his life living on the Cape, where he finds daily inspiration. During our 2016 season, we celebrated Davis' 20 years with the gallery, and he continues to be one of our most sought after artists.