"La Belle Epoque" was an era of great beauty, excess, innovation and renewal in France from the 1890's until World War I. Paul César Helleu encapsulates the elegance of the time period in his work. Using oil paint, pastel and drypoint etching with a diamond stylus, Helleu is known for his animated renderings of Parisian society women. His portraits are a far cry from the structured, rigid canon that was frequently followed throughout the Victorian era. Rather than relying on the three quarter length, forward facing, hands-crossed-in-lap pose that was traditionally employed, Helleu encouraged his subjects to relax and be themselves.
The etching "Elegante de Chien Faisant le Beau" depicts a finely dressed woman crouching slightly to play with her spirited puppy. Her back is turned to the viewer, obscuring much of her face, yet she still feels familiar. Helleu introduces us to this woman through her other details. She wears an elegant tiered dress and a formal hat that clearly speak to her status as an aristocrat. The ornate molding and lavish furniture in the background of the etching also support this conclusion. The figure becomes much more personal when we consider the whimsical way she has been shown. Helleu chooses to show the woman bending forward towards an eager puppy while delicately lifting the skirt of her dress. There are very few details in this etching yet Helleu's sparing use of line brings life to the scene.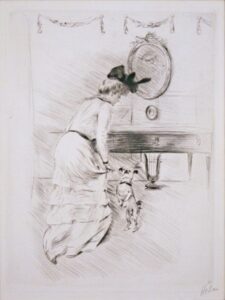 This richly burred print is an exquisite example of Helleu's etchings. He understood how each mark on the copper plate would translate to the paper. This knowledge helped Helleu bring his images to life. Look, for example, at the short staccato lines that compose the woman's skirt. The lines transform into a tactile image of bustling fabric. One can almost hear her skirt rustling as she moves towards the dog.
Helleu was part of a group of artists including Tissot, Manet and Whistler who depicted Edwardian era Paris. In fact, it was Tissot himself who first introduced Helleu to the technique of using a diamond stylus to create drypoint etchings such as "Elegante de Chien Faisant le Beau." Helleu's most famous commission was the star-filled ceiling of Grand Central Terminal in New York City. After being covered for over six decades, the mural of the night sky was restored in 1998 and is on display for the millions of travelers passing through the train station today.
"Elegante de Chien Faisant le Beau" is currently on display at The Christina Gallery. Come visit us in Edgartown to see the etching for yourself or check out our website here to learn more about Paul César Helleu.