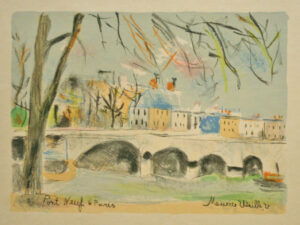 I last visited Paris in February 2019 and hope to return after the city hosts the Olympics in 2024. In the meantime, I find myself traveling to one of the most stunning cities in the world through the eyes of Maurice Utrillo (1883-1955), an artist considered the best-known portrayer of Paris. Before his passing, his last work was a series titled Paris Capitale, featuring ten iconic views from around the city.
When viewing these works by Utrillo, you can easily imagine strolling down the Champs Élysées or over the Pont Neuf to Île de Cité on the way to Île Saint-Louis, one of my favorite areas in the city because of the old-world charm is intact. As does Notre Dame, the majestic Eiffel Tower stands tall in the distance while wandering along the Seine. The charming park views are beckoning for an afternoon stroll or quiet time on a bench with a coffee and French sweet from a patisserie. I've always loved meandering around the neighborhoods with no agenda, just taking in the sites.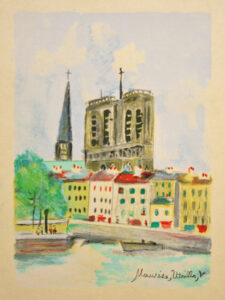 Maurice Utrillo was the son of Marie-Clementine Valadon, an accomplished young model in 1880s Paris, and the Spanish writer and art critic Miguel Utrillo. Valadon began her artistic career by posing for such painters as Puvis de Chavannes, Pierre-Auguste Renoir, and Berthe Morisot. She became the protégé of Henri Toulouse-Lautrec, who suggested she change her name to a more lyrical Suzanne and introduced her to Edgar Degas. He became her mentor and encouraged her painting career.
A troubled teenager, Utrillo's mother pressed him to focus his excess energy on artistic pursuits. He began to paint, and though he had never shown artistic tendencies, his talent soon became apparent. His mother continued to support and encourage him, and although she supplied minimal instruction, Utrillo was primarily self-taught.
In 1924, Utrillo moved to a chateau near Lyon, France so he could focus on his artistic studies. He produced paintings of French cathedrals and panoramic views of the surrounding countryside – and even some florals – but it is the street scenes of the working suburbs and the little-known sights of the French capital for which he is most remembered.
In 1935, at the age of fifty-two, he married Lucie Pauwels, a widow whose business savvy allowed the couple to retire in the late 1930s to a luxurious villa in the Paris neighborhood of Le Vesinet. Here he continued painting, relying on postcards, memories, and the view from his window as he became too ill to work in the open air. Utrillo lived into his seventies and died on November 5, 1955.