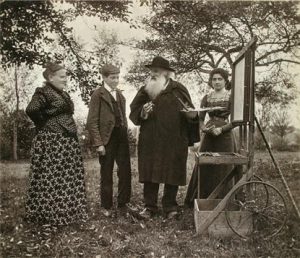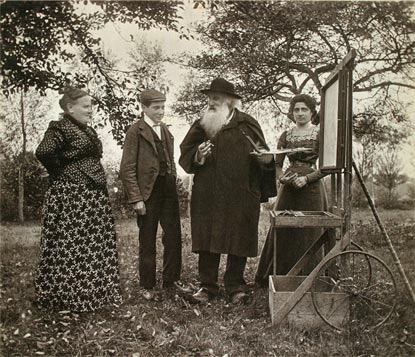 Camille Pissarro (1830 – 1903) is frequently referred to as the patriarch of the Impressionist movement. Pissarro moved from his birthplace of St. Thomas to Caracas in 1852, and after this taste of independence from his family's bourgeois life, returned to Paris (where he had studied as a boy) in 1855 to begin his life as an artist. Pissarro's artistic talents were apparent from an early age, yet he increasingly grew to dislike the aesthetic canon revered by the Salons of Paris. Pissarro embraced the technical act of painting [and printmaking] and enjoyed the freedom and possibility that the paintbrush allowed him. He eliminated historical and sentimental associations from his artwork and instead focused on the quality of light and the modeling of form. Academies and the Salon that presided over the respected artistic world of Europe did not share this viewpoint. Instead they admired the artist whose work captured the likeness of the subject matter while not revealing the artist's hand or the mark of the brush. A passionate brushstroke was seen as a weakness. Pissarro, along with his like-minded contemporaries including Monet, Renoir, Degas, Sisley and Morisot, organized their own exhibition of Impressionist works separate from the exhibitions hosted by the Salon. This exhibition was held in 1874 and was the first of eight independent Impressionist shows.
Throughout his life, Pissarro remained committed to his artistic ideals which were adopted by his children and future generations of artists. He was the only artist to exhibit works in all eight of the independent exhibitions, demonstrating his support of the younger generations of Impressionist artists. All of Camille Pissarro's children were encouraged to draw frequently and four of his seven sons became well-established artists in their own right.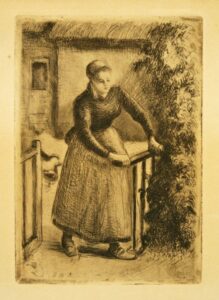 Pissarro produced engravings for his own enjoyment; he did not seek to sell them and as such they are often printed on small or unrefined pieces of paper. Despite this amateur attitude towards the medium of printmaking, Pissarro was to become a master in aquatint later in his career. His Femme a la Barriere (1889) combined both drypoint and aquatint and is a prime example of the varied techniques with which Pissarro experimented. He was known for remaining open minded about methods of artistic expression and embraced many styles within his works. The print is of a woman opening a garden gate. Varied lines capture the texture of the woman's bustling skirt, the leaves of a bush blowing in the breeze, and the fine detail of the thatched roof cottage in the background. Pissarro's prints reveal his private thought process and layers of preparation that lie behind each of his oil paintings.