Sailors' Valentines are part of an old maritime history dating back to the 19th century. On Martha's Vineyard Sailors' Valentines remind visitors of the island's whaling heritage.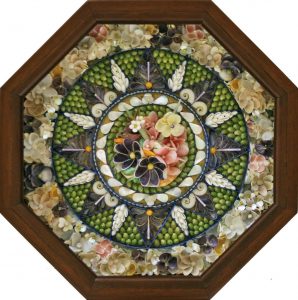 Often made of Spanish cedar, Sailors' Valentines are octagonal shaped boxes, lined with fabric and filled with intricate geometric patterns of colored seashells. These works, originally called 'Fancy Work' are native to Barbados. Locals used thirty-five types of indigenous shells to form their elaborate designs. Sailors travelling to the area from England and America would purchase the mementos in port to bring home to their loved ones. The colloquial name 'Sailors' Valentine' was inspired by the sentimental messages, such as "Truly Thine," that were occasionally worked into the shell mosaic.
Sandi Blanda is a folk artist currently living in Plymouth, MA. Blanda uses only naturally colored shells to create her contemporary versions of the Victorian era's Sailors' Valentines. She was captivated by the romantic folktale (though untrue) that sailors created these mementos themselves while out at sea. Inspired by the notion that such ornate objects were created for loved ones, and her personal love of flowers, Blanda sought out to produce her own iteration of the Sailors' Valentine. She remains true to the tradition, working shells within octagonal wooden boxes. Some of these cases are hinged so when closed they take the form of unassuming simple boxes, but when opened they reveal intricate and colorful designs. This was very common amongst the Victorian Sailors' Valentines because it protected the shell work while the sailors were at sea. Blanda's sophisticated creations can take up to four months to complete due to their precise and meticulous nature. These precious artworks are treasured by generations as they are passed down within families.