The first time I saw a Sailors' Valentine was in 1997 when award-winning artist Sandi Blanda joined our gallery. I remember being surprised by the intricacy of her work and still to this day, I marvel at her time and commitment in making these really distinctive works of art. Her colorful, geometric patterns remind me of a kaleidoscope, though these works should not be rotated, just enjoyed.
Sailors' Valentines are part of an old maritime history dating back to the Victorian era. These mosaics, originally called Fancy Work are native to the island of Barbados. The locals would often use up to thirty-five different types of indigenous shells and arrange them into elaborate designs in octagonal boxes. Sailors travelling to the area from England and America would purchase the mementos in port to bring home to their loved ones. Often a sentimental message such as Be Mine would be worked into the mosaic, thus inspiring the name Sailors' Valentines.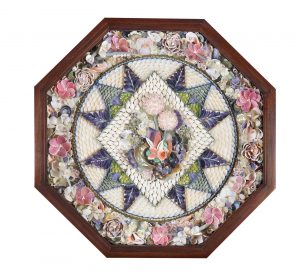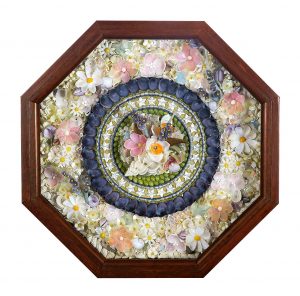 Sandi Blanda uses only naturally colored seashells to create her contemporary versions of the Sailors' Valentines. She remains true to the tradition by working the seashells within octagonal wooden boxes. Inspired by the notion that such ornate objects were created for loved ones, and her personal love of flowers, Sandi sought out to produce her own iteration of the Sailors' Valentine and she continues to do so today.
When we talk about Sandi's work with visitors to our gallery, they are always amazed that she does not employ people to help her nor does she enhance the shells with color, and that they are truly in their natural state. Her sophisticated creations can take up to four months to complete due to each one's precise and meticulous nature.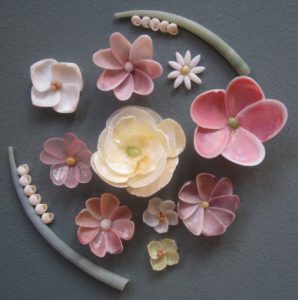 I never anticipated having the patience, or the time, to attempt making a Sailor's Valentine, but this has recently changed. While on different vacations, I found myself picking up seashells that were familiar to me while looking at Sandi's Sailors' Valentines. Last spring I went to her home and she graciously gave me a lesson on how to create a valentine. The first step was to learn how to make the flowers. I must admit I became a bit obsessed once I understood how to create them. I am overdue for lesson number two and hope to get back to see her soon. It will probably take me a year or two to complete the valentine I have started, but I find myself enjoying and learning the creative aspects to this unique art form.
To view the entire collection of Sailors' Valentines by Sandi Blanda please click here.