Last week I spent a day away from the gallery and traveled to the Cape, specifically to the Cahoon Museum of American Art in Cotuit, to see their summer exhibition: Exquisite Shells: The Art of Sailors Valentines. I had been there a month ago to deliver a large sailors valentine by our longtime gallery artist Sandi Blanda and knew that I would want to come back once the exhibition was open to the public.
Curated by the Cahoon's director Sarah Johnson, Ph.D., the exhibition traces the history of this unique seashell craft from its 19th-century beginnings to the current day. One of the first valentines on view is documented from the 1840s and was purchased in 1848 by Captain Thomas H. Lawrence of Falmouth, Massachusetts while he was passing through Barbados. Upon his return home from sea, he presented it to his bride to be, Mercy.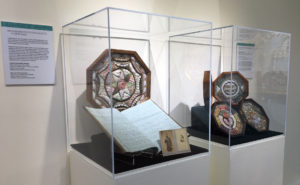 The exhibition continues with what may have been my favorite wall of works by Ralph Cahoon (1910 – 1982), the namesake of the museum (and his former home and studio) and Bernard Woodman (1920 – 1986). They collaborated between 1977 and 1982, Bernie would create the sailors' valentines, and Ralph would do a whimsical painting for the center. Each work was so delightful, and I felt like they had a good time working together.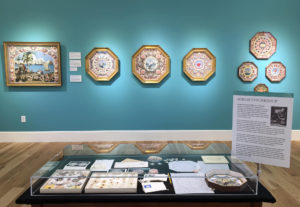 When I rounded the corner, to my delight, there was a sailor's valentine created by Bernie Woodman, but this time the center painting was by our very own Elizabeth Mumford! Liz has a very whimsical style that is influenced by American folk art. My next highlight was the valentine which Sandi Blanda created, and her center had a painting by Ralph's wife, Martha Cahoon (1905-1999).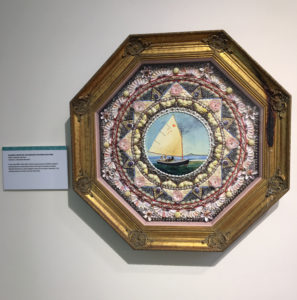 Overall, Sandi had several valentines on display, most of which came from a private collection. There is a room on the second floor that has many of her all-white sailors' valentines. The rest of the exhibition included works by other artists, and it was interesting to see their take on this unique shell craft.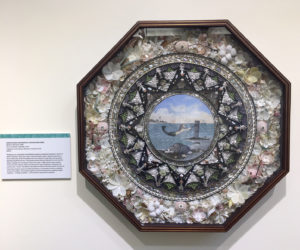 Sandi says, "for anyone passionate about Sailors Valentines, this show at the Cahoon Museum of Art is a must see!" She taught several artists included in the exhibition, and you can see her influence. Sandi will give a personal talk about her inspiration, research, and techniques on July 5 at 2:00. After 36 years and 631 completed valentines, I'm sure she has a lot to say.
Please click to view more Sailors Valentines by Sandi Blanda
Please click to view more Paintings by Elizabeth Mumford