John C. Traynor was commissioned by the United States Golf Association® to create a painting to commemorate the 115th U.S. Open Championship at Chambers Bay, in University Place, Washington, the first U.S. Open to take place in the Pacific Northwest. The original painting has been added to the USGA Museum's collection.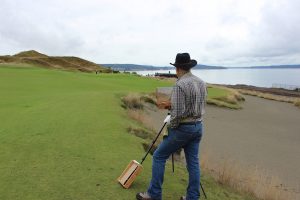 Traynor captured a magnificent view of the 10th hole overlooking Puget Sound on the links-style course. The 10th green is beautifully nestled in a valley flanked by bunkers and set between two of the largest dunes on the course, hence the name of the hole: "High Dunes." The course is set on part of a 930-acre park that was designed by architect Robert Trent Jones Jr. and is owned by Pierce County. Chambers Bay opened in June 2007 and eight months later, the USGA chose the course as the host site for both the 2010 U.S. Amateur Championship and the 2015 U.S. Open.
"You do not see many golf paintings (in my studio), because they seem to sell rather quickly," said Traynor. "My interest in painting golf courses began on my trips abroad. I connected with Chambers Bay when I first visited, because it is a links-style course, similar to those I've painted in Scotland and Ireland." Traynor himself is an avid golfer and has played many of the top golf courses around the world.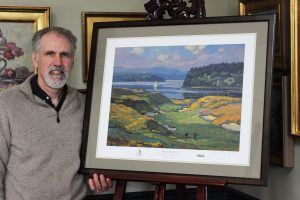 Traynor is a nationally recognized oil painter and has been exhibiting with The Christina Gallery since 1997. Traynor grew up in New Jersey and now resides in southern New Hampshire. His style is described as "American Impressionist," but his techniques are completely unique and very distinctive. Traynor has received over two hundred awards of merit and his paintings hang in several corporate and private collections.
To view more paintings by John C. Traynor please click here.