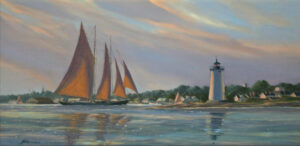 It is with deep sadness that we announce the passing of our dear friend and long-time gallery artist, Yves Parent on July 8, 2011 after a long and extremely successful artistic career. He died at his home in La Trinité Sur Mer in France and was surrounded by his loved ones.
Parent was a talented artist whom we have worked with for over two decades. He was born in Normandy in 1941 and was first a lawyer and an executive at his grandfather's mineral water company before dedicating his life to his artwork. We met Yves and his friend and fellow artist, Marc Bertier, back in the 1980's. Both avid sailors, they would come to the States from France during the summer season to paint along the Eastern seaboard. Yves then did watercolors from his boat giving the observer a unique window into how he saw the harbor fronts, lighthouses and surrounding landscape.
It wasn't until many years later that Yves switched to oil paints and managed to achieve the very same tranquil mood many came to appreciate in his watercolors. His work continued to be admired by all that loved the sailing genre and he was an artist member of the American Society of Marine Artists.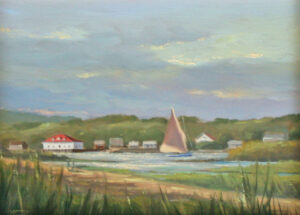 His cheerful demeanor and very charming smile will be deeply missed by all those who ever interacted with him.