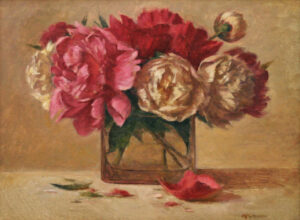 With immense sadness, we share the news of the passing of Carol Fortunato on August 18, 2022. Carol fought a difficult battle and remained hopeful through several clinical trials, but the cancer took her life. We have sent our sympathies to Carol's husband, Angelo.
After graduating from the School of Visual Arts in New York with a degree in illustration, Carol continued her studies at the Art Students League. During this time, she discovered an interest in chiaroscuro (use of light and shade) painting. Carol joined the gallery in 2009, and her still-life paintings were admired by many. She had solo shows at the renowned James Beard House and French Culinary Institute. Carol enjoyed her quiet time in the studio but also loved painting en plein air landscapes in Vermont. In 2013, she spent the summer in England painting the Cotswolds and fulfilling a lifelong dream.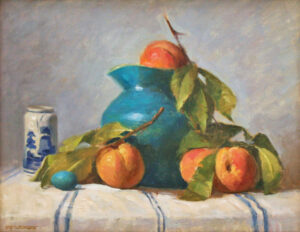 Carol and I spoke a couple of weeks ago. She was at peace with the road ahead of her. I told her it was an honor to have her beautiful paintings in the gallery all these years and that I would miss her.
Rest in peace, Carol.