The fall, and particularly the month of October, is a really pleasant time to visit Martha's Vineyard and the town of Edgartown is always worth the trip. You are able to find a parking place and get a table at your favorite restaurant. The beaches and bike paths are deserted which make for a wonderful afternoon walk while taking in the crisp fall air and seasonal colors.
Even though the crowds are gone, the Island is still bustling, in part due to the very popular annual Striped Bass & Bluefish Derby but also because of the many festivals and outdoor activities that take place during this time of the year.
As in the past, The Christina Gallery is a proud sponsor of the Martha's Vineyard Food & Wine Festival and its signature kick-off event, Fresh off the Farm, a celebration of local farms and chefs. Fresh off the Farm benefits Island Grown Schools and the MV Agricultural Society Farmer's Program. This year's festival takes place October 13 – 16, 2016.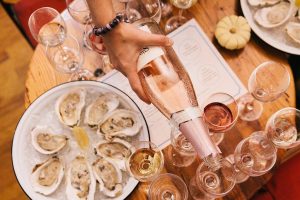 The gallery will continue to be open daily through the end of the year. We are looking forward to seeing you during your next visit to the Island.