It's hard to believe it's already the middle of February because before you know it the daffodils will be blooming around here! We've had a little snow here and there, and then of course, there was the blizzard of 2013 which really was a major event here in New England. We received about a foot of snow on the island and it was very pretty, like a winter wonderland!
I have been spending my time preparing for the summer 2013 season and have a great schedule of events. First up, will be an exhibition of paintings by long time gallery favorite, John C. Traynor. We will be displaying works from his recent travels, including Scotland, Ireland, France and maybe even some of Italy, if he makes the trip as currently planned for this Spring.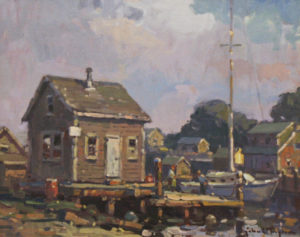 "Menemsha Harbor"
by John C. Traynor
"Home & Abroad"
June 27 – July 7, 2013
Lillia Frantin will be present for our July gallery stroll event and we will feature her wonderful modernist paintings. She was new to the gallery's collection last season and her colorful and spontaneous paintings were very well received.
During the August gallery stroll, island artist Marjorie Mason will be on hand to talk about her recent paintings of Martha's Vineyard. As always, that is a popular event!
And stay tuned, in September we are planning a "plein air" painting event with one of the other galleries in town. You will be able to watch many artists around town painting and interpreting what they are seeing. More details to follow as they become available.