Summer is finally in full swing here on the Vineyard. It was a bit of a late arrival for most people because of the extended school season and snow days that needed to be made up. Outside of the uninvited Hurricane Arthur over the 4th of July holiday weekend, it has been a most delightful summer so far. The Town postponed the holiday celebration by a day and it was certainly worth it, the fireworks were spectacular!
New paintings are continuing to arrive daily and we are enjoying the return of Igor Galanin works to the gallery. For those of you familiar with our gallery, you may remember Igor's work from the past. Very playful and oversized animals and people are the focus of his whimsical and surreal paintings.
The Pissarro Family collection has been extremely well appreciated by our gallery clients and those visitors walking into the gallery for the first time. The collection includes oil paintings and works on paper by Camille Pissarro (1830-1903), his five sons; Lucien (1863-1944), Georges Henri (1871-1961), Felix (1874-1897), Ludovic-Rodo (1878-1952), and Paulemile (1884-1972), and his grandson H. Claude (b. 1935). Please stop by the gallery the next time you are in Edgartown to view the works in person, we promise it will be worth the trip! This collection will continue on display through the middle of September.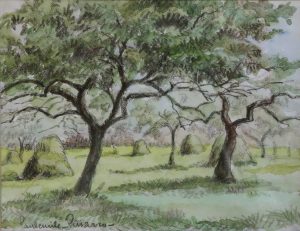 Gallery and island favorite, Marjorie Mason is putting the finishing touches on her works for her show "Vineyard Landscapes" that will open with an artist's reception on Thursday, August 7 at 5 pm. We will send out an exhibition announcement when the entire collection is ready for viewing.