Last week award-winning artist Sandi Blanda was on the island to teach a workshop on how to make Sailors' Valentines. Sandi is very well known for her own work and has been teaching workshops for several years, though this was her first workshop on Martha's Vineyard. The workshop was filled to capacity and it was a tremendous success! It took place over the course of three mornings and was held at the Boathouse, here in downtown Edgartown.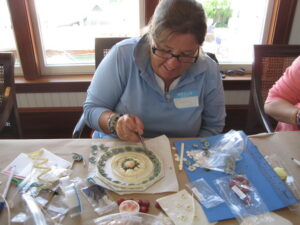 Thirteen people signed up for the workshop, four participants had taken a workshop in the past, and the other nine people had not. So understandably there was a little hesitation on their part, but once Sandi got everyone involved the group moved right along and most days stayed later to ask questions and continue their creations.
On the first day everyone learned about the different shells supplied by Sandi and the other materials they would be using to create their valentines. They learned the basics and then were assigned homework which entailed coming back in the morning with an idea for a design. Which everyone did and began to layout the different shells and other components to create their valentine.
On the last morning, the group started to permanently assemble their creations, some of whom finished and others whom had a beautiful work in progress. Sandi had a wonderful time getting to know her new friends and is looking forward to next summer's workshop. To view more photographs and a video of this summer's workshop please visit the gallery's Facebook page.