website creator Lloyd Kelly is internationally renowned for his landscape and equestrian oil paintings. He has exhibited at The Christina Gallery since 1994 as well as at galleries and museums around the world including the United States, Mexico, Japan, China, France and Italy.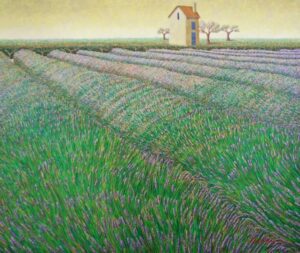 Kelly's works are often celebrated for their bold use of color and unique asymmetrical balance. High horizon lines simultaneously provide the viewer with both an interesting focal point and an entryway into the canvas. Diagonal lines extend off the canvas out into the viewers' space, resulting in the dissolution of barriers between reality and the world created by the artist's brush. This technique allows the viewer to become a part of the painting.
A consistent thread seen in Kelly's work throughout his career is his use of complementary colors in the fore and background of his paintings. He places great importance on the under-painting of his canvases. The contrast that his layering creates adds dramatic tension to the deceivingly simple compositions and subjects. His selection of beautiful and serene subjects such as lush lavender fields and floral still-lifes are familiar to viewers. Kelly himself frequently reminds the viewer that his work is abstract and that diverse and unexpected meaning can be found in even the most seemingly innocuous subject matters. The painting is not only about the object itself; conventional subjects become a way to express other ideas.
From July 5-19, 2012 The Christina Gallery will have on view an exhibition of original oil paintings by Lloyd Kelly entitled "Paintings of Provence." Inspiration for the works in this show comes from Kelly's travels to the south of France. Many master painters in history are either from, or travelled to, Provence. The rolling hills, impressive architecture and surreal natural lighting provide a rich subject matter for this collection of paintings. As Kelly explains, "The south of France is inspirational because of the food, the wine, and the magic light there. It is still a big influence on artists today. There is such a rich diversity of landscape; nature is so present. It energizes the artist and inspires…"
We hope to see you at The Christina Gallery for our first show of the 2012 Summer Season!