On Saturday, July 1, 2017, The Christina Gallery, which is celebrating its 40th season, opened the 2017 Summer Exhibition with an artists' reception for Duane Alt, Sandi Blanda, John C. Traynor, Russell Gordon and Marjorie Mason. The gallery is celebrating 20 years each with Alt, Blanda and Traynor and works by Island landscape artist Marjorie Mason and Still life and Portrait artist Russell Gordon are also being featured.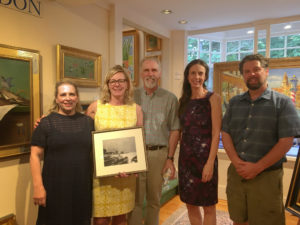 During his lifetime, Duane Alt has traveled extensively through France, including both the French and Italian Riviera. Il Pitisforo Restaurant, Portofino, is a classic Alt painting that invites us to sit with friends and have a leisurely meal while enjoying the most wonderful view too.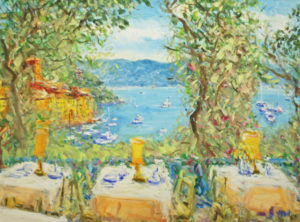 Long Island native Sandi Blanda, is a self-taught folk artist who was inspired in 1983 when she discovered a Sailors' Valentine for the first time. Sandi uses only naturally colored shells to create her contemporary versions of the Victorian era's Sailors' Valentines. Queen of Hearts is a large valentine with an intricate heart shaped center. When viewing Sandi's work, one should appreciate the time and patience that goes into each valentine.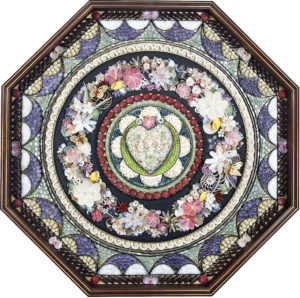 John Traynor has traveled annually to the Vineyard to paint on location. Sunset Sail, Edgartown was painted during a recent stay on Chappaquiddick. He captured the late day sun as it was setting over Edgartown Harbor and the Old Whaling Church, highlighting the sailboat on an end of day sail.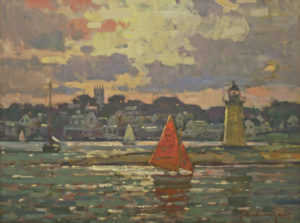 Visitors to our gallery really connect with Marjorie Mason's work because she captures a fond memory for them to take home from their time spent on the Vineyard. Moshup June Dune has one walking down the path to the shore to enjoy the sweet hint of the rosa rugosa and surf on a perfect June day.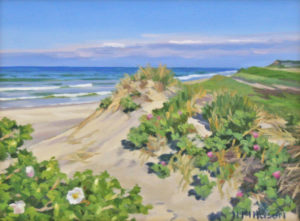 Russell Gordon joined our gallery seven years ago and is well known for his sumptuous still-life paintings. Most recently he has included portraits of North American birds to his oeuvres. Chickadees captures the popular small songbird in various stages of flight, as if they could take flight off the canvas and with a few "chick-a-dee-dee-dees" too.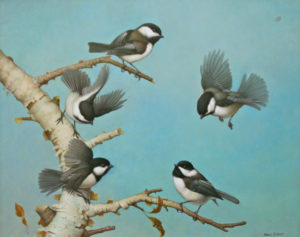 We will be celebrating these five artists throughout our summer season. If you have not already seen the exhibition, please stop by our gallery. You can also check out our Facebook and Instagram pages to see more about the 2017 Summer Exhibition.