Jan Pawlowski is known internationally for his impressionist seascapes, landscapes and city scenes. Sunday the 24th of July marked the opening of the Polish artist's one man show here at The Christina Gallery. Pawlowski has been a frequent visitor to Martha's Vineyard since joining the gallery in 1996.
This exhibition of his work highlights these visits as he displays views of the island. The paintings displayed in the show demonstrate Pawlowski's confident and quick brushstrokes as well as his sensitive understanding of color and form. Pawlowski's followers appreciate his bright and serene palette.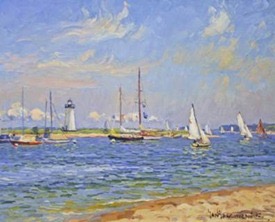 Paintings such as "June Afternoon, Edgartown Yacht Club" capture the essence of the Vineyard. A light wind blows causing the American flag to flutter in the wind and a cluster of sailboats breeze by in the distance. Pawlowski manipulates the oil paint masterfully, transforming a few simple brushstrokes into light and fluffy clouds gracing the otherwise clear afternoon sky.
Jan Pawlowski paints en plein air or 'in the open air.' This technique of painting was advocated by the Impressionists of the late 19th century. In 1841 tubes of paint were invented, allowing artists to easily transport their materials and paint from life wherever they were inspired. Prior to this invention, artists and their assistants hand ground pigments and produced their own paints. Many art historians and critics credit the creation of tubes of paint for the development of Impressionism for it was the ease of movement that allowed artists to paint outdoors. Pawlowski embraces this technique and can often be found along the beaches and waterfronts of Martha's Vineyard capturing the jovial atmosphere of the island with his expressive brushstrokes and pleasing palette.
Pawlowski has been recognized for his oeuvre of artwork by the Polish government; in 1979 he was awarded the highest honor given, called "Authorization and Certification." His work was also in the collection of Pope John Paul II.