In the spring of 1977, my father and I opened a small gallery featuring his collection of vintage photographs of Martha's Vineyard. We didn't tell my mother about the gallery until we were ready to open. As each year passed we would expand upon the gallery's offerings to include posters, limited edition prints and finally original works by nationally recognized artists. Today the gallery features the work of 30 living artists, a Modern Masters collection and a very unique collection of antique maps and nautical charts dating back to the mid-1500's. We are quite proud of our artists and of the gallery.
During our 2017 summer season we are very excited to be celebrating the gallery's 40th year and 20 years with Duane Alt, Sandi Blanda and John C. Traynor. It was the spring of 1997 when Duane, Sandi and John joined our gallery. We will host an artists' reception with soft music and light refreshments on Saturday, July 1, 2017 from 6:00 to 8:00 pm.
During his lifetime, Duane Alt has traveled extensively through France, including both the French and Italian Rivieras. It is Duane's fondness for all things French that one might think he is indeed a native, but that is not the case. Duane celebrated his 82nd birthday this past April and still spends about six hours a day painting in his studio.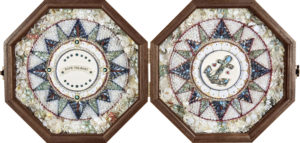 Long Island native Sandi Blanda, is a self-taught folk artist who was inspired in 1983 when she discovered a Sailors' Valentine for the first time. Sandi uses only naturally colored shells to create her contemporary versions of the Victorian era's Sailors' Valentines. Historically, Sailors' Valentines were brought home to loved ones by the sailors. Neither made by sailors nor intended as valentines, these shell mosaics in octagonal, sometimes paired and hinged, glass covered wooden boxes, were intended as homecoming mementos.
John C. Traynor is a nationally recognized oil painter who grew up in New Jersey and now resides in southern New Hampshire. His style is described as American Impressionist, but his techniques are completely unique and very distinctive. Traynor has received over two hundred awards of merit and his paintings are well represented in several corporate and private collections.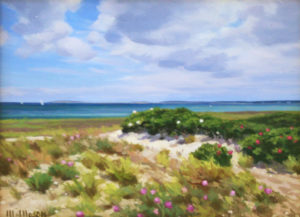 Island Landscape artist Marjorie Mason and Still Life and Portrait artist Russell Gordon will also be in attendance for this celebration. Marjorie will be featuring her current collection of paintings of Martha's Vineyard. Visitors to our gallery really connect with her work because she captures a fond memory for them to take home from their time spent on the Vineyard.
Russell Gordon is a Realist artist well known for his sumptuous still-life paintings. Most recently he has included portraits of North American birds to his oeuvres. Russell is originally from Maryland and now resides in upstate New York with his family.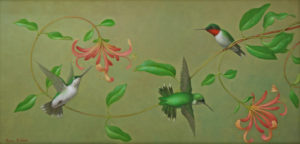 We hope that you will join us for our celebration on Saturday, July 1, 2017!