William R. Davis has made his name as a painter of historic sea and landscapes. Known as one of the best marine painters of our time, Davis is a self-taught artist who learned to paint by studying the works of 19th century masters. Francis Silva's works showed Davis that warm tones are pleasing to the eye, while astute observation of William Bradford's paintings led to Davis' technique of priming his canvas in salmon hues. The salmon under-painting results in the warm glow that marks each of Davis' oil paintings.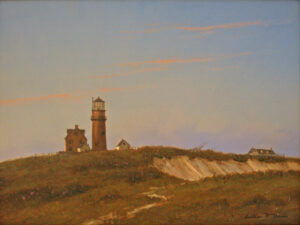 Davis was born in 1952 in Somerville, MA and grew up near the water in Hyannis where he developed a love of sailing that would last a lifetime. He has amassed a library of over one thousand texts on marine artists, historic vessels, maritime charts, and other boating related books. He thoroughly researches each landscape in order to recreate its 19th century appearance. Davis uses a gentle hand and a soft sable brush to create his carefully rendered oil paintings. His works are defined by their warm color palette, impeccably detailed subject matter, smooth surface, and atmospheric lighting. Renowned for his ability to accurately portray the billowing sheets and taught lines of a schooner, he is also unmatched in his ability to emulate the quality of light in a dewy sunrise or a pink-tinged sunset. His perceptive appreciation of light allows him to capture the power of nature in every painting. Collectors of Davis' art praise the elegant way his brushstrokes melt into the surface of the canvas and the accuracy with which he captures the turn-of-the-century seascapes.
William R. Davis' work is reminiscent of the American Luminism of the late eighteen hundreds. The style is defined by the use of natural light, often sunrise or sunset, in the paintings of American landscapes. Davis' work can be found in collections and exhibitions around the world, including at The Christina Gallery in Edgartown, Martha's Vineyard.