Bonjour! As I mentioned in the last blog we would be traveling to Paris in the early part of February to visit with colleagues who handle modern master works on paper. It was a very successful trip and we enjoyed our time there, even though it was unseasonably cold. It seems all of Europe is enduring some very cold weather of late.
We stayed on Ile St. Louis which is very quaint with its wonderful array of cafes, boutiques, patisseries and speciality markets. My parents were surprised with a visit by my brother, Matthew and his friend Stuart. Matthew will be starting a new position as Vice-President of Strategic Planning for Children's Hospital of Philadelphia, so he decided to get away before starting his new job.
The Musée d'Orsay is always a must when we are visiting Paris. On the fifth floor is the museum's Impressionist Collection which was outstanding. I don't think I have ever seen this gallery filled with so many paintings, it was if they all came back at once from being out on loan. I could have spent hours in those rooms.
The museum has also made some recent acquisitions, including The Circle of the Rue Royale by James Tissot. This magnificent painting is a group portrait depicting members of a men's club posh, gathered on a terrace overlooking the Place de la Concorde in Paris, and at the time, gave recognition to Tissot as "one of the most talented painters of his generation."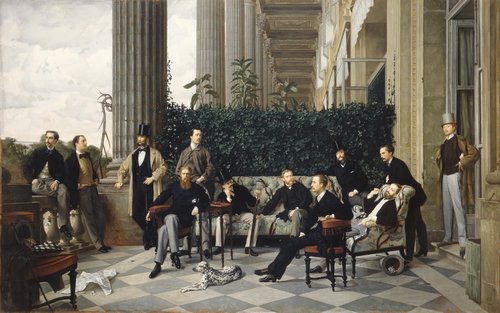 We also visited the Musée Marmottan Monet in the 16 arrondissement to view an exhibition "Henri Edmond Cross and Neo-Impressionism: Seurat to Matisse." The museum once was a hunting lodge and also has an extensive display of Impressionist works by Monet, Morisot, Pissarro, Degas, Sisley to name just a few, with a wonderful collection of period furniture throughout the museum.
We did purchase several works on paper during our stay, including Printemps and Prodigal Son (suite of four etchings) both by James Tissot, Gants de Suede by James Whistler, La Belle Jardiniere a calendar of images dated 1896 by Eugene Grasset and several other works which will make their way to our website once they are framed.
It's always nice to come home after being away for awhile, but I certainly could have spent another week in the City of Lights. It really is a magical city!