website creator Pierre-Joseph Redouté is perhaps the most famous painter of flowers in the world. He served as the official flower painter to both Queen Marie Antoinette and Empress Josephine Bonaparte of France, Napoleon's first wife. He is best known for his work "Les Roses," a series of stipple engravings of roses based on his watercolor paintings.
Redouté was born in 1759 in the Belgian Ardennes. Both his father and grandfather were artists and encouraged Redouté to begin painting at the age of thirteen. He began his career in religious art, modeling himself after the likes of Michelangelo and Raphael. While working at a cathedral in the Netherlands he was first introduced to the flower paintings of Van Huysum and other Dutch artists. In 1782, after this initial exposure, Redouté ventured to Paris to further his interest in botany painting by studying specimens at Jardin du Roi. While there he met Gerard van Spaendonck, an artist, and Charles Louis L'Heritier de Brutelle, an amateur botanist. Both individuals became dominant forces propelling Redouté's career. In fact it was L'Heritier who first introduced Redouté to Marie Antoinette; a connection that soon led to his appointment as court painter.
In 1804, after six years of patronage, Empress Josephine Bonaparte took on Redouté as her official artist. Empress Josephine was known for her love of roses and is often referenced as having grown the first garden exclusively composed of roses at her home near Choisy, Chateau de Malmaison. It was her mission to collect and plant every known rose variety. To achieve this goal she worked closely with nurserymen including M. Andre du Pont, the director of the Luxembourg Gardens. Of the Empress' extensive collection, Redouté published over 160 stipple engravings of roses from the Empresses Chateau de Malmaison. He was an avid botanist, an interest that was nurtured by his relationship with van Spaendonck, as well as an artist. It was this combination that impressed Empress Josephine and allowed Redouté to produce such exquisite, elegant and accurate renderings of each flower he painted.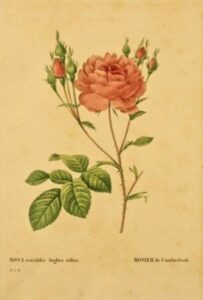 "Les Roses" was commissioned by Empress Josephine as a record of her extensive rose garden. Each Redouté's career flourished and he enjoyed the success of his career merging naturalist research with timeless art. In 1828 at the height of his fame, Redouté met Jean-Jacques Audubon (or John James Audubon as he is also known). The two became close friends and supporters of each other's work. Today they are both recognized as pioneers of iconographical botany and ornithology painting.
A number of rare original engravings from Redouté's "Les Roses" series are on display at The Christina Gallery in Edgartown, MA. You can also view them here on our website.