Pierre-Auguste Renoir (1841-1919) is one of the most celebrated painters of the French Impressionist movement. Renoir was born in 1841 in the town of Limoges, in south-central France. His father was a tailor, and in 1844, relocated his family to the artistic and cultural center of Paris. Renoir showed interest in music and art at an early age, and was apprenticed at the age of fifteen as a porcelain painter. He spent two years learning to decorate plates, teapots and vases in ornate detail until the china works store closed in 1858. At this point, Renoir decided to take his talent and interest beyond commercial employment; he wanted to become a serious artist.
Renoir began his art studies in 1862 under the direction of Charles Gleyre alongside fellow students Claude Monet, Frederic Bazille and Alfred Sisley. They would all become friends and influenced each other's work.
Renoir first started to exhibit at the Salon in 1864 and had success but also had works rejected. It was a frustrating period for the artists in Paris largely due to the Franco Prussian War, as many including Renoir and Bazille, were called into military service. After the war, it was then that he and his fellow artist friends formed an independent artist society calling themselves The Impressionists. He would continue to exhibit with them through the 1870's.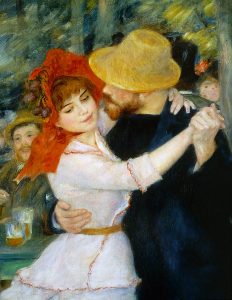 In the early 1890's Renoir tried his hand at printmaking at the insistence of his agent, publishers and friends. He wasn't at all initially interested in this medium being embraced by his fellow artists such as Camille Pissarro and James Jacques Tissot. Renoir, at this point in his life, was terribly riddled with arthritis and had trouble holding the etching tools. His first attempt at printmaking was an absolute failure.
Renoir's second attempt at printmaking was a soft-ground etching which, as a result of his inexperience, failed to come together too. It was followed by another effort in the same format, successful this time, replicating his famous painting completed in 1883 Dancing at Bougival. Renoir chose the soft-ground medium as it corresponded more closely to his drawing. This etching technique permitted him to draw directly on a sheet of paper laid upon the grounded copper plate.
The inspiration for this particular etching, La Danse a la Campagne was not the painting itself, but one of the preparatory drawings for it, portraying his model and fellow artist, Suzanne Valadon and Renoir's brother Edmond (some say it is his friend Paul Lhote) dancing at Bougival. Bougival was a popular resort on the Seine a few miles outside Paris frequented on Sundays for dancing, boating and country amusements.
In all, Renoir would complete only about 50 graphic works, half of which were etchings, the other half lithographs. Renoir did not often sign his prints but would occasionally add his signature for a dedication or to what he felt was an exceptionally fine print.