Lucien Vogel stirred the French fashion world in 1912 with the publication of Le Gazette du Bon Ton, a fashion journal highlighting the artistic qualities of clothing design. Perhaps if this magazine were produced today it would be equated with the likes of Vogue or ID and possibly even referred to as a commercial catalogue, but these comparisons do not do Le Gazette Bon Ton justice. From 1912-1925 Vogel issued limited edition journals of beautifully rendered fashion plates showcasing designs by avant garde fashion houses including Lanvin and Paquin.
The images printed in Le Gazette du Bon Ton were all pochoir (French for stencil) prints. This work-intensive technique creates beautiful illustrations that preserve the vibrant colors and intricate details of the original designs. Individual stencils would be cut for each color required. The stencils are then hand painted with gouache and watercolor and printed on hand-made paper.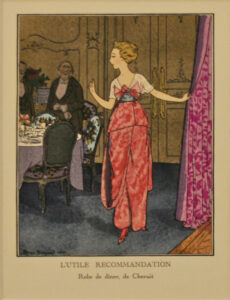 "L'Utile Recommandation" is an exceptional example of the intricate fashion plate prints from Gazette du Bon Ton. Accompanied by the witty text, "Dinner's ready / Dinner gown by Cheruit." we see an image of an elegant young woman wearing a vibrantly dyed red dinner dress with a sheer overlay bodice. She looks back over her shoulder at a butler in the background, standing over a set dinner table. This woman is clearly living an enviable life full of leisure and grace. Her head is turned away from the viewer while her body faces forward allowing us to gaze at her dress without being caught staring. It is easy to infer, as the artist intended, that by purchasing this dress one also achieves part of the same quality of life. This combination of intricate imagery and tempting advertisement made Gazette du Bon Ton a very successful endeavor. It helped reinforce the public's fascination with an idyllic life of leisure and highlighted the artistic abilities of both the fashion houses and the artists themselves who were producing these exquisite poichor prints.
Enjoy more images from Vogel's Gazette du Bon Ton here on our website or visit us in person at The Christina Gallery in Edgartown, MA on the island of Martha's Vineyard.